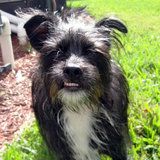 This months pooch pin up is all American mut, Theodore Roosevelt Smith or "Teddy" for short. Young Teddy was found wandering on a busy residential street and was saved by his new parents. He has beautifully tangled wirey hair (even when groomed!) and a gorgeous under-bite that showcases his pearly whites!
Thanks so much to parents, Jennifer & Craig, for the photos.
Submit your Pooch for a pin up!
Email us a description of your Pooch and a photo